Recent News
2012 IEEE/RSE Wolfson James Clerk Maxwell Award for Gerhard Sessler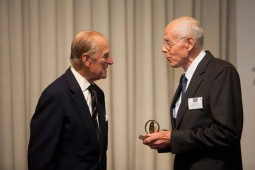 Professer GERHARD M. SESSLER has been awarded the Maxwell Medal, and it was presented to him at a ceremony of the Royal Society of Edinburgh (RSE) by Prince Philip, the Duke of Edinburgh, on September 26th 2012. The IEEE President, Dr. Gordon Day, and the IEEE Executive Director, Dr. James Prendergast, were in attendance for the event. Gerhard Sessler was accompanied by some of his family and they had a private audience with the Duke who was in great form despite his recent ill health.
The citation for the award reads "For pioneering contributions to electroacoustic transducers, the development of silicon microphone technology, and seminal work on electroactive materials"
Gerhard Sessler has helped revolutionize the modern microphone market not once but twice during his career. Dr. Sessler and co-worker James West at Bell Labs invented the first polymer electret condenser microphone in 1962, which provided high performance at a smaller size and lower cost. The technology was commercialized in 1968 and soon became the world's dominant microphone, replacing the carbon-button microphone that was used in telephones for 100 years and finding applications wherever microphones are being used. Working with Dietmar Hohm at the Darmstadt University of Technology, Dr. Sessler designed the first microelectromechanical systems (MEMS) condenser microphone based on silicon micromachining in 1983 (the first all-silicon and first one-chip microphone). His lab developed refined micromachining techniques, enabling creation of miniaturized microphones with superior electroacoustics. These microphones were introduced to the market in 2002 and are used mostly in mobile phones but also in laptops, PDA's, MP-3 players, and hearing aids. Dr. Sessler also worked on electroactive materials with electret and piezoelectric properties and a variety of applications in sensors and actuators.